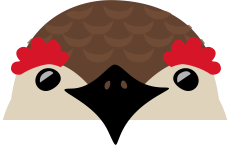 Protection policies
The Japanese Rock Ptarmigan is a special natural monument (protected species) of Japan, and has been placed on the red list for endangered species by the Ministry of the Environment. Toyama Prefecture has undertaken a number of initiatives to protect the rock ptarmigan, as well as the natural environment of Tateyama, which is the largest habitat of the rock ptarmigan in Japan.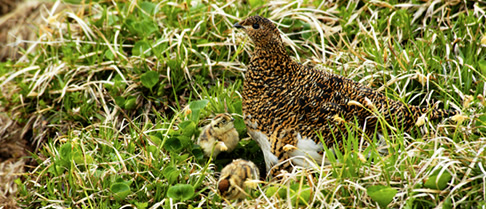 Surveys and research
Population number and environment (vegetation) survey (1972-)
A main source of data used to inform protection measures, carried out between late June and early July in mountainous regions throughout the prefecture (18 areas covering 20 mountainous systems).
In 1992, all surveyed areas were checked, and since then, multiple surveys have been conducted in the Tateyama, Mt. Yakushi, and Mt. Asahi areas.
In the Tateyama area, surveys are conducted every 5 years. (In 2001, because the expected population number sharply decreased, a supplemental survey was held in 2003)
■ Results of the population survey
Tateyama area

| | Individuals | Territories |
| --- | --- | --- |
| 1972 | 267 | 104 |
| 2006 | 245 | 104 |
| 2011 | 284 | 120 |
| 2016 | 295 | 125 |
Mt. Yakushi

| | Individuals | Territories |
| --- | --- | --- |
| 1974 | 91 | 38 |
| 1993 | 149 | 52 |
| 2010 | 113 | 48 |
Mt. Asahi

| | Individuals | Territories |
| --- | --- | --- |
| 1973 | 42 | 19 |
| 1994 | 56 | 22 |
| 2011 | 44 | 22 |
| 2017 | 42 | 20 |
Pathology surveys (1975-) (Tateyama area only)
Conducted tests to observe whether visitors to the mountains bring in disease carrying bacteria (Collection of rock ptarmigan stool samples, E. coli bacteria testing, etc.)
Tateyama Rock Ptarmigan ecological survey, winter survey (1977-) (Tateyama area only)
Surveys following territory, egg number, hatching percentage, living conditions of chicks (April-November)
Survey to grasp the living conditions throughout the winter season, place of habitation, feeding grounds (1978-) (February-March)
Rock ptarmigan protection measures
Creation of the Toyama Rock Ptarmigan Support Group (2016)
The Toyama Rock Ptarmigan Support Group was created to conduct lectures on the rock ptarmigan's ecosystem, for volunteers who are interested in helping protection efforts. The Support Group's main activities are installing wildlife fences and spreading observation manners. The Group also participated in joint activities with the Nagano Prefecture Rock Ptarmigan Supporters during the 2017 fiscal year.
Wildlife fence installation

Picture commemorating the wildlife fence installation

Automatic cameras surveying sika deer habitats

A lecture from Professor Masuzawa, a visiting scholar from Shizuoka University, and activity reports from the Support Group
Installation of barriers to protect the rock ptarmigan (1973-)

Installed around the Tateyama region and maintained yearly.
Between 2015 and 2017, fences were installed by prefectural citizens.

Efforts to restore vegetation (1982-)

Conducted in areas where vegetation had been wiped out in the Murodo region of Tateyama.

Establishment of limited ski zones (1975-)

Installation of signs, poles, ropes, etc. along limited zones which stop skiers from entering places where creeping pines and other vegetation grow in the spring.

Installation of an environmentally friendly toilet

Installed around the Tateyama region and maintained yearly.

"Take home your own trash" campaign

Around the Murodo area of Tateyama, garbage cans have been abolished since 1977, and from 1992 a campaign began encouraging visitors to bring their garbage home with them.

Protection consciousness-raising

Signs detailing explanations about the protection of the rock ptarmigan have been set up by mountain patrol workers and the Toyama Rock Ptarmigan Support Group, in order to raise awareness about protection activities. (In Toyama, Ōyama, Asahi, and Unazuki areas)
Breeding of the rock ptarmigan
In order to protect the rock ptarmigan, various initiatives are being undertaken across the country; these include research about breeding and designation of the bird's natural habitat as national parks and wildlife reserves.