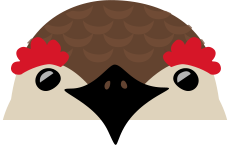 Sighting information
The rock ptarmigan is a special natural monument of Japan, and is designated as endangered species. Tateyama is one of the few places where you can observe wild rock ptarmigans from up close in their natural habitat. Raicho Mimamori Net (Rock Ptarmigan Protection Net) is a platform for teaching observation manners, reporting and sharing rock ptarmigan sightings more easily, as well as promoting protection activities and environmental maintenance efforts. If you see a rock ptarmigan, please help us by reporting your sighting!
Foreign language entries will not be displayed on the map, however they are important contributions to our observation database.
After a sighting has been submitted, it must be approved by an administrator, so the information you submit may not appear right away.
In order to ensure the safety of rock ptarmigans, occasionally sighting information will not be made public based on the sighting location, etc. (Your sighting information will still be treated as important data.)
How to submit a report
Push the "Submit a sighting" button to open the report page.
Add a photograph using the "Select a picture" button. If you do not have a picture, press "Skip".
Enter the necessary information and press the "Confirm" button. Check the data you entered and press the "Submit" button. You have completed your submission.